Pirmoko kraitelis
Kaip gerai, kad...
Gyveno kartą, gal prieš kokį šimtą metų, maža mergaitė. Turėjo ji mamą ir tėtį, gyveno name su dideliu sodu, o prižiūrėjo ją auklė - vienuolė. Su aukle mergaitė praleisdavo ištisas dienas – drauge mokydavosi, skambindavo pianinu, vaikštinėdavo ir, žinoma, žaisdavo… Auklė išmokė ją žaisti ir žaidimą, kurį jos vadindavo "Kaip gerai, kad…". Kaip jį žaisti? Ogi reikia pasakyti "Kaip gerai, kad …" ir pratęsti mintį užbaigiant sakinį "nes …".
Kartą mergaitė siuvinėdama įsidūrė. Atbėgo pas auklę ašarų pilnomis akimis ir rodo jai kraujuojantį pirštelį. O auklė nepradeda guosti mergaitės, bet siūlo jai: "Žinai, pažaiskime mūsų žaidimą "Kaip gerai, kad…". "Kaip gerai, kad įsidūriau pirštelį", – netvirtu balseliu sako mergaitė, – "gerai, nes… nes… nes galėjau juk įsidurti net du pirštelius". "Taip", – pritaria auklė, – "Kaip gerai, kad įsidūrei pirštelį, ir greitai pamatei tai, nes juk galėjo kraujo lašelis nukristi ant siuvinėjamos staltiesės ir sutepti ją, o tai juk dovana mamai vardadienio proga, nespėtum kitos išsiuvinėti". "Kaip gerai, kad įsidūriau pirštelį ir nešaukiau garsiai, nes mama būtų labai išsigandusi – ji visada pergyvena, kai man kas atsitinka", – mergaitės ašaros jau nudžiūvusios, balselis guvus, ją pagauna azartas, – "Aš tuoj sugalvosiu dar daugiau, kodėl galėčiau pasakyti, kaip gerai, kad įsidūriau pirštelį… Kaip gerai… kaip gerai, nes dabar, o ne vakar, kai turėjome eiti į teatrą… kaip gerai, kad … kad adatėlė nenulūžo…". Mergaitė jau šokinėja ir juokiasi. Auklė šypsosi – koks puikus žaidimas!
Kitą dieną mergaitė važinėjosi dviratuku sodo keliukais, o auklė žingsniavo šalia. Dviratukas užkliuvo už medžio šaknies, ir mergaitė apvirto skaudžiai susimušdama koją. Dar klūpėdama ant žemės ji pirmiausiai pažvelgė į auklę, ir tuoj pat prisiminė jų žaidimą "Kaip gerai, kad…". Tuomet pamažu atsistojo, nusivalė smėlėtas rankas, ir ramutėliu balsu pasakė: "Kaip gerai, kad nukritau čia, o ne kokioj baloj…" Po to šlubčiodama priėjo prie auklės, parodė jai nubrozdintą kelį ir pridūrė: "Ir gerai, kad susimušiau tik vieną koją".
Šis žaidimas mergaitei taip patiko, jog ji neapsieidavo be jo nei dienos. Nesvarbu, kas benutiktų – ar reikėdavo nesmagų darbą dirbti, ar susipykdavo su namiškiais, ar negaudavo to, ko norėdavo – žaidimas padėdavo visada. Žodžiai "Kaip gerai, kad…" tapo tiesiog įpročiu kiekvienoj sudėtingesnėj situacijoj. Net ir tuomet, kai mergaitė užaugo, ir auklės jai seniai nebereikėjo, ji juos vis prisimindavo.
Po daugelio metų, ilgai ir sunkiai sirgęs, mirė tos mažos mergaitės, kuri jau buvo tapusi suaugusia mergina, tėvas. Į laidotuves atvyko ir auklė. Ji priėjo prie netekties prislėgtos savo auklėtinės, paėmė ją už rankos ir pasakė: "Žinau, tau sunku. Bet net ir dabar mes galime pažaisti mūsų seną žaidimą "Kaip gerai, kad…". Mergina atsakė jai: "Kaip gerai, kad taip yra – jam nebeskauda, jis nebesikankina – tėtis dabar danguje, jam ramu". Ir jos abi nusišypsojo.
Kaip gerai, kai moki tokį žaidimą…
(alegorinio pasakojimo autorius nežinomas)
2011 METŲ KOVO 29 D. 16.30 VAL. Lukšių Vinco Grybo gimnazijos bendruomenė nuoširdžiai kviečia JUS maloniai ir prasmingai praleisti popietę kartu.
Jūsų laukia mokinių darbų paroda, koncertas "Pavasario žiedai", pokalbis su psichologe eksperte Nijole Janonyte tema "Vaikų ir paauglių sveikata" . Po renginio maloniai kviečiu užsukti į 4 b klasę. Lauksiu.
"Bendravimas – tai savotiškas menas. Jis turi teikti malonumą, poilsį ir naudą. Tai nėra tuščias laiko leidimas. Be žmonių tarpusavio bendravimo neįmanoma jokia žmogiškoji veikla..."
KVIEČIAME BENDRAI VEIKLAI
Gimnazijos bendruomenė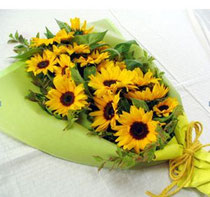 Sugrįžkime mintimis į savo vaikystę...
Tai, ką girdėjome, kai buvome vaikai:
stovėk ramiai, eik greičiau, kur bėgi, paskubėk, neliesk, būk atsargus, viską suvalgyk, išsivalyk dan­tis, neišsitepk, jau išsitepei, patylėk, kalbėk, atsi­prašyk, pasisveikink, ateik čia, nesimaišyk man po kojomis, eik žaisti, netrukdyk, nebėgiok, nesu­prakaituok, žiūrėk nepargriūk, sakiau pargriūsi, dabar tai tau bus, kodėl manęs neklausai, šito tu nesugebėsi, esi per mažas, duok aš padarysiu, tu jau didelis, eik miegoti, kelkis, pavėluosi, aš užsiėmęs, eik žaisti vienas, apsirenk, nestovėk saulėje, eik į saulę, nekalbėk pilna burna.
Tai, ką norėjome išgirsti, kai buvome vaikai:
myliu tave, tu toks gražus, kaip gerai, kad tave turiu, pasikalbėkime truputį, pabūkime kartu, kaip jautiesi, ar tau liūdna, gal bijai, kodėl gi šito nenori, tu toks mielas, tu toks švelnus, papasakok man, ką tu išgyvenai, ar tu laimingas, man patinka kai juokiesi, verk, jei nori, tau kažkas nepasisekė, kas tave nu­skriaudė, kas tave taip supykdė, papasakok man viską, jei nori, pasitikiu tavimi, tu man patinki, ar aš tau patinku, kada tau nepatinku, klausau tavęs, žinau, kad mane myli, ką apie tai manai, man patin­ka būti su tavimi, noriu su tavimi pakalbėti, noriu išklausyti tave, pasakyk, kada jautiesi nelaimingas, man patinki toks, koks esi, mums gera būti kartu, pasakyk, jei suklydau.
Šalia mūsų yra daug  žmonių, vis dar laukiančių žodžių, kuriuos norėjo išgirsti vaikystėje, bet neišgirdo.
IŠTARKIME JUOS!
Nepašykštėkim viens kitam Gerumo žodžių – pačios brangiausios širdžiai dovanos.
Naudingos nuorodos